In an era of fake everything (at least that what it seems sometimes), I'm happy to report that there's nothing phony about our show, Whiskey Jack Presents Stories & Songs of Stompin' Tom. We sing and play the songs that we learned from the man himself, either while on tour with him in front of thousands of fans, or in his furnace room with just him and his guitar.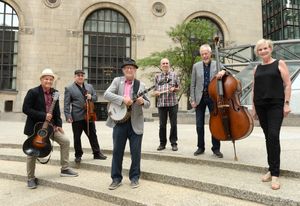 The applause we hear each night is Tom's applause. The first time he heard our version of Algoma 69, he smiled and nodded his approval. That's what our show is all about.
And the Stompin' Tom stories? The ones we tell each night? Well, they're authentic also. We know they're real because we were there!
We applaud along with our audience each night. We salute the fans who come to our show and thank them for helping us keep the music and legacy of this great man current and vital. We join them in their belief that Tom's message is too important to forget, and suggest that in the years to come, he'll be honoured and remembered as one of the greatest Canadian performers ever. When we announce to the fans that Tom is to Canada what Robbie Burns is to Scotland and that someday the Government of Canada will recognize his contribution to the country by declaring a day in his name, they often jump to their feet with approval. It's quite a moment.
There's a spirit to our show that sets us apart from the Orbison/Presley tribute shows flooding the live music scene today. If you want something real to present to your audience, call and book this show today. Include it in your 2019/2020 season.