The town of Wawa was an important stop for Stompin' Tom in his early years hitchhiking across Canada.  He passed through and performed often in Wawa over the years.  In fact, one of his earliest songs was "Little Wawa".  It was a hit and he sold a lot of copies of this record.
The "goose" that is mentioned in the song has been in bad repair for many years and the community has been trying to raise money to refurbish it.  Thankfully, the entire
goose will be replaced
and the town will continue to enjoy this symbol of the north.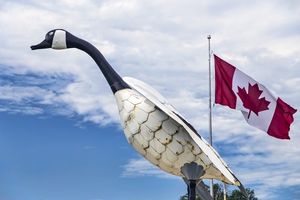 This is our version of Tom's song.