We had just finished our second song at our show in Hepworth Ontario last Sunday when I looked out and noticed 10 empty chairs in the front row.  On each chair was a hastily written "Reserved for VIP's" sign.  My first thought was, "what would Tom do about this?".  I knew exactly what he would do!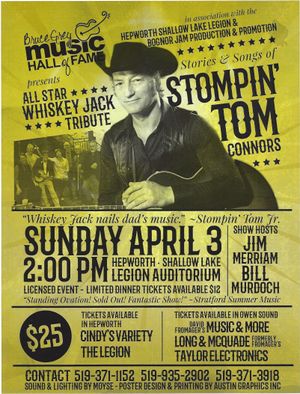 I announced the availability of 10 VIP seats in the front row and encouraged those in the back to make their way through the crowd to take over these seats.
A few minutes later, as we were finishing up Margo's Cargo, I noticed a great scene unfolding in the audience, one that would have warmed Tom's heart.  Making their way slowly up the aisle was a group of elders, canes and walkers in hand, ably assisted by other fans.   It took a few minutes but when the parade was complete, there they were, the happiest and prettiest Tom enthusiasts sitting in the front row having the grandest of times.  
When the show was over, the "VIP Row" led the crowd in a standing ovation, confirming once again that Stompin' Tom fans are the finest and most honourable people in this great country.