It's been awhile since we've been in touch with you.  That's not to say we've been hibernating.  We continue to write, produce and promote our music each day.  For example.... 
Our show continues to generate attention from the industry.  Just before Christmas, we received some nice press from Fyi Music News.
The audience for Our Youtube Channel continues to grow.  We like to think it's because it contains a lot of entertaining videos, one of which has well over 800,000 views. 
Our latest video  is an interview with banjo legend (and Duncan's mentor), Denis Lepage.  Denis was instrumental in the creation of the Bluegrass Division of Boot Records, the independent label that was formed by Stompin' Tom Connors back in the 1970's.  It's an inspiring story on many fronts.  We invite you to check it out. 
During the short period we were allowed to play music in front of people in 2021, we performed at The Stockey Centre in Parry Sound, Gibson Centre in Alliston, The Redwood Theatre in Toronto and more.  We even streamed online for the first time since 2015.   We're optimistic the momentum will continue in 2022.  Former Cadillac Lounge owner and our pal, Sam Grosso, has relocated his energies and love for live music to The County (Prince Edward that is) east of the city.  His new theatre, Sam's Place, will host Whiskey Jack's 45th anniversary celebration (with some highlights of our Stompin' Tom show thrown in for good measure).  April 16, 2022 and tickets are available now.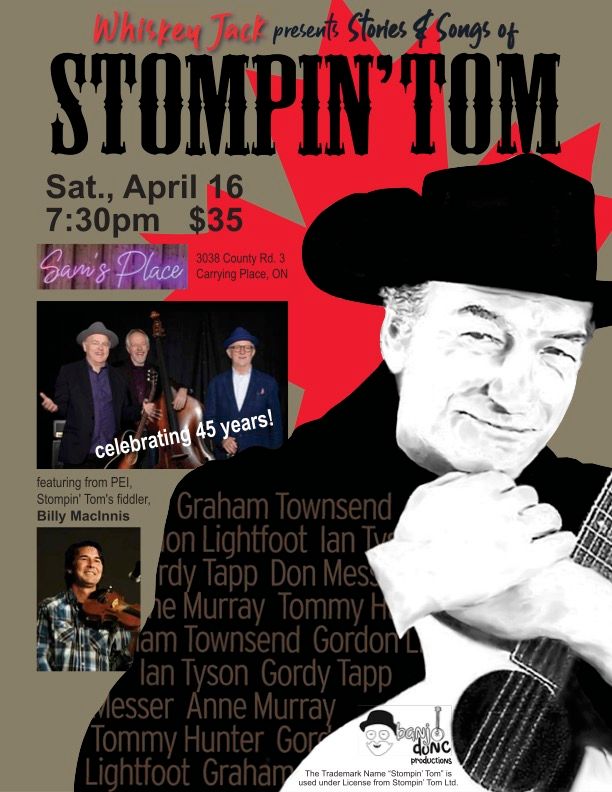 Soon we'll be releasing a video highlighting a song Douglas and Duncan co-wrote with Stompin' Tom and Gate Lepine, Tom's best pal.  It's a blues number called Two Days From Regina.  More songs from this vault will be produced over the next few months.  Check out our new website for updates. 
So, on behalf of Doogie and Dun and Whiskey Jack (and our Stompin' Tom show), we wish you all a healthy holiday season.   
Very warm regards from Duncan, Douglas, Eric, Billy and Teddy 
(Banjodunc Productions)