Our Youtube Channel has now reached over 1400 Subscribers.  Thank you!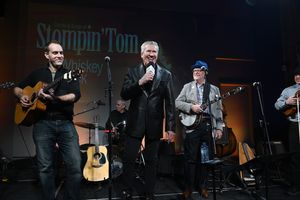 We hope you enjoy Part 3 of our series featuring highlights from our 2019 Stompin' Tom Birthday celebration.  The show was aired live on Robbie Lane's show on Zoomer Radio - AM 740 and 96.7 FM.  
Murray Foster, founding member of Moxy Fruvous and bass player for Great Big Sea returned in 2019 to sing The Bug Song, another of Tom's clever and poetic songs.  Tom's word play is again featured.  Great fun!
Over the next few weeks, we will be presenting 3 more videos in this series.  Russell deCarle's very funky version of Gumboot Cloggeroo is not to be missed.  Then, in Video #5, The Good Brothers will sing a Tom favourite,  Don Valley Jail.
The final video of the series will be one of those "I wish I was there" performances.  Gordon Lightfoot joins Whiskey Jack and The Good Brothers to sing Alberta Bound.  
As the song ends, I lean over and ask Gordon if he'd stick around and help us close the show (as we always do) with our version of The Hockey Song.  He replies "sure". 
Subscribe to our channel and we'll notify you when this clip is uploaded for all to enjoy.