In 2013, Duncan Fremlin received a call from John Miller (on the left), artistic director at Stratford Summer Music.   "Would you bring your Stompin' Tom show to my festival?" John asked.  Thus was born Whiskey Jack Presents Stories & Songs of Stompin' Tom. 
In 2022, John has done it again.  At this lunch last Friday, John invited Duncan and Whiskey Jack to debut their new touring show, Legends of Canadian Country Music at his new festival, Huron Waves Music Festival.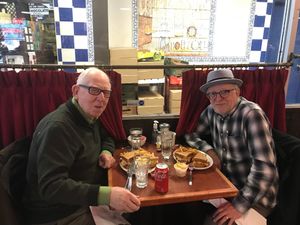 The date is June 12, 2022 and the location is home of another legend, the CKNX Barn Dance, Wingham Ontario.  Joining Whiskey Jack for this extravaganza will be Brian Good from The Good Brothers and  a long time member of the Canadian Country Music Hall of Fame, Marie Bottrell.  The musical history on the stage for this show turns it into an afternoon of "Legends honouring Legends". 
Given Whiskey Jack's years with the CBC (most notably The Tommy Hunter Show) and as Stompin' Tom's touring band, these hardened road warriors and their guests are well suited to represent the generation that was inspired by ....Gordon Lightfoot, Ian Tyson, Anne Murray, Gordie Tapp,  Wilf Carter, Don Messer, The Good Brothers, Prairie Oyster and more.
All multiple award winners in their field, seasoned veterans Brian Good, his wife Susie and Marie Bottrell bring their own tall tales and memorable songs to the stage.
More details will be available real soon.