For fans of Stompin' Tom Connors and country music in general, the Juno Awards have been a pebble in our shoe. It began when Tom unceremoniously tossed his Juno's into a cardboard box, called a taxi and instructed the driver to drop them at the Juno office, posthaste.  My attendance at Anthem Entertainment's Pre-Juno Awards party at their head office was no exception.  That's Tom's record label in case you were wondering.
With a bounce in my step, feeling pretty cocky as the producer of Whiskey Jack Presents Stories and Songs of Stompin' Tom, I take the elevator to the 29th floor on Brenmer Blvd, a huge tower, steps from the Skydome (I'll never use the corporate name), and walk up to the young greeter.  "Like, last name please" she so happily asked me (everyone was exceptionally happy at this party).  "Like, Fremlin" I announce. 
She poured over the invitation list, flipping pages as I stood waiting...."like first name?".  (The youngsters these days preface every sentence with "like"?) 
"Like, Duncan".
She continued to turn pages looking for my name.
"Helen invited me herself" I pleaded.  (Helen being the big cheese at Anthem).
"Like, no worries.  Like, I'll find it.  Like, go in and enjoy yourself". 
I squeezed past a few suits who were blocking the hallway, "like excuse me" I announced, and walked in the room. 
I couldn't help but admire the stage on my right.  A band was all all set up with large amps, mic stands and more.  I wished it was my stage.   I looked up and there she was, Helen Murphy herself, talking to even more suits.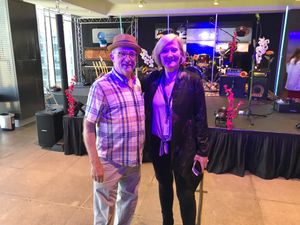 Everyone in the room stopped, turned to look at me, and thought to themselves, "who the hell is this old guy?  I've never seen him before." 
Had I been announced like at a Royal gala, there would have been a collective, "never heard of him". 
Helen glanced my way, walked over, shook my hand and at this moment, Rod Serling spoke into my ear, "you are about to enter a different dimension...where the earth begins to rotate at twice it's normal speed...you are entering, The Twilight Zone". 
That's what happens at these meet-and-greet events.  I knew this was happening because Helen's left eye was looking my way, but the other was elsewhere, scanning the room.  My time with Helen would be short.   So I began to talk and didn't stop until she left my side.
"Helen, Duncan Fremlin, Whiskey Jack.  I came here for 2 reasons.  I wanted to meet you in person and I was hoping to see a real Juno Award.  This being my band's 45th year and no Juno Award in our spacious trophy case, we've declared 2022 to be "Our Dream of a Juno Is Dead Tour".
"Cute" she replied.
I also scanned the room continuously during our talk.  In my case, I was looking for a Juno statuette (is that what it's called?)
"Where do you keep them" I asked again.
"There are none here." she replied.
"Where's Tom Jr." I asked.  "I was hoping to see him also".
"No.  Not this time".
"How about Andy Hawke?" said I.  "He's the fellow I speak to most often when I call here".
She yelled above the din and invited Andy to join us.
The earth continued to spin quickly so I immediately asked for a photo.  Andy took my camera and snapped one of me and Helen.  I quickly handed Helen my camera (everything was done quickly) and asked her to shoot me and Andy .  Sadly, it did not turn out well.  "I'm new at this" was her explanation. 
I respectfully took my leave and began to "work the room".
My drink of choice was water.  I was offered a can of the new RUSH beer (yes, a beer named after a rock band)  but at 5.5%, I thought not. 
I stopped to view the room from a distance when this fellow came up to me and asked "should I know you? You look like a big star" (is my hat a ticket to fame?). I shook his hand, told him my name (he had that "never heard of him" look on his face) and asked who he was. As turns out, he really is a big star at Anthem's Nashville office.
Gilles Godard and Whiskey Jack's Douglas John Cameron have much in common...both nominated 2x for Juno's - neither won.  Losing a Juno has become a badge of honour in Whiskey Jack's world.  Gilles is a celebrated songwriter.  In the 1980's he was nominated for Juno's with Colleen Peterson and Eddy Eastman. 
Under different circumstances, Gille and I would have gabbed for an hour.  We were both touring in the 1980's and knew many of the same people. 
Fast forward to my early departure, moments before a band began to play forgettable songs, I enjoyed a 45 second encounter in the elevator with a young, very well dressed couple, who were obviously people of importance,  on their way somewhere. 
"Are you going to the Juno's? the beautiful lady asked.
"No" said I.  And again, with 45 seconds at my disposal, I started talking..."Dream of a Juno Dead...." and all that.  I was vomiting bullshit.
The three of us got off the elevator,  they took off at a very fast pace, I kept up as best I could...continued to vomit bullshit about my Legends show and  "Whiskey Jack lost more Juno's" than almost anyone".  I finally gave up and slowed to a more manageable pace.  They left the building, didn't look back, and approached a black limousine with a driver waiting with the back door open. 
"Mmmm" I thought to myself.  "They must be important". 
Like everyone else at the party, I had no idea who they were.  Even if I had, I would have pretended that I didn't.  That's how petty I can be. 
I hope I thanked Helen properly.  I did have a grand time and enjoyed myself very much.