Every couple of months, I take a leisurely country drive to Erin Ontario and spend a few hours with Tom Jr, Lena at the family compound.  We talk hockey, the good old days on the road but mostly, we talk about the future....the future of the Stompin' Tom brand.
The passion we all share is the desire to keep the legacy of Stompin' Tom Connors relevant in 2016 and beyond.  To that end, we forged a new relationship during my visit yesterday.
Later in 2016, Universal Records will be re-releasing the 1993 recording that features the only recorded musical collaboration between Stompin' Tom and Whiskey Jack.
The CD is called Dr. Stompin' Tom Eh!  Much of the music on that recording is performed in our show, Whiskey Jack Presents Stories & Songs of Stompin' Tom. This includes Gumboot Cloggeroo, Let's Smile Again, Canada Day, Up Canada Way and Just A Blue Moon Away.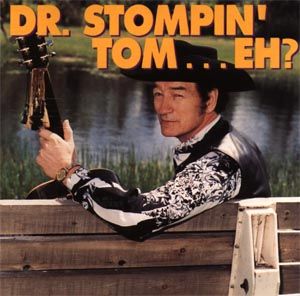 I'm particularly excited to have been asked by Tom Jr.  to write the liner notes for this re-release.  I will most certainly relay a story or two about my time on the road with Tom, our time in the studio recording this CD and a few words about the show we're presently touring with.
Also in the works soon is the inclusion of our show on the official
Stompin' Tom web site
.  Like any new production, we strive each day to make our mark on the Canadian entertainment scene.  Having our logo and this web page attached to Stompin' Tom Ltd. is an honour and a welcome boost.  There are many thousands of visits to this site every year and hopefully they'll visit our site while they are there.
More news about the special Sesquicentennial show that we're working on will be released in a few weeks. The official name for this anniversary is "
Canada 150
".  I was thinking the other day that there's a good chance that if he were on stage chatting with his fans,  Tom would be calling it our Sexy Centennial.