Stories & Songs of Stompin' Tom is a show that combines live music with theatrical energy. The songs in the show are primarily Stompin' Tom originals but also includes songs by the Canadian artists who inspired the early Tom Connors, the hitchhiking troubadour, who eventually became Stompin' Tom. The show includes material featured on a typical Stompin' Tom concert, songs by Wilf Carter, Hank Snow, Don Messer, Graham Townsend and contemporary songwriters such as Willie P. Bennet and Whiskey Jack's Bob McNiven.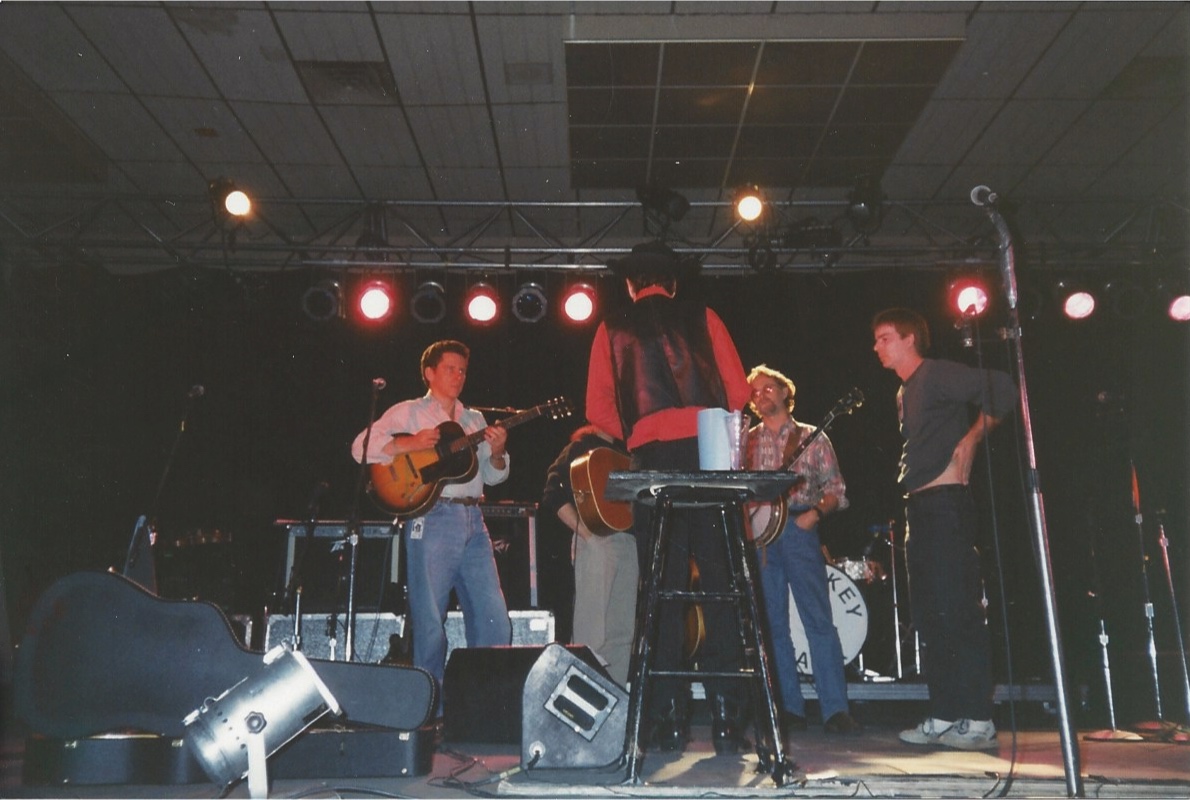 As long time members of Tom's travelling troupe of musicians (dating back to 1990), the members of Whiskey Jack have accumulated many stories and tales of the man and his music. This show allows them to dip into this seemingly endless supply to recreate the spirit of a typical Stompin' Tom concert. Tom's unconventional and self deprecating approach to performing makes for a very entertaining and often unpredictable evening. They add to the mix some hilarious and unconventional quips from the man himself, actual audio clips from their live shows with Tom. The audience is often treated to the voice of Tom introducing a song..."take a trip to the tropics of Canada" as a prelude to the Ketchup Song for example. This always triggers smiles and applause from the surprised fans.
Included in the show are modern interpretations of classic Stompin' Tom hits. The word sophisticated isn't usually associated with a Stompin' Tom show, except when Whiskey Jack act out their version of Bud the Spud and Margo's Cargo. The unbridled enthusiasm and visually expressive staging exhibited by the band is contagious and the fans eat it up. Tom didn't just stomp his foot, he contorted his entire body as he belted out Sudbury Saturday Night. In that tradition, Whiskey Jack singers don't simply open their mouth and sing. It sometimes becomes an out of body experience. It's a fast paced display that often requires a lot of room.
Another important part of the show features polished performances by the seasoned professionals who make up Whiskey Jack. When you combine contemporary vocal harmonies with these classic Tom songs, the results bring fans to their feet. There's their fiddler, Randy Morrison, five time National Bluegrass Fiddle Champion; Duncan Fremlin, banjo wizard and a long time cast member of the CBC's Tommy Hunter Show;  Bob McNiven on guitar and vocal;  Howard Willett on harmonica, Eric Jackson on bass,Jen Cook on vocals and Al Cross on drums. Most have been playing and singing Stompin' Tom material for the majority of their professional career. And it shows!
There are thematic segments in the show. For example, Tom the patriot is explored through song and commentary. The scene begins on Parliament Hill, Canada Day, 1993. The song is Tom's most famous patriotic song, "It's Canada Day". This is the first song Whiskey Jack performed with Tom on the 1993 tour. Tom told the band that this show was one of the biggest of his career...being able to play in front of hundreds of thousands of Canadians, broadcast live on the CBC to the entire country was the "thrill of a lifetime". The next sequence morphs into a song or two about Canada's two solitudes. There's Tom's plea to the country to stay together with the songs Unity and Believe In Your Country. It ends with a love story between a Quebecer and an English Canadian, "Well my name is Johnny Maple, and they'll never make no laws, To keep me from my little Quebecois".