I'm sitting here in my office, the day after, glowing in the many memories that were created at the Cadillac Lounge yesterday.  Where to begin?
There were a lot of skilled photographers there and I'm hoping they pass along some of their work.  I'll post them here when they send me the photos and films.  
The Best Fans:
 First of all, many of the fans drove in the worst possible conditions to get there so we were determined to make sure they went home happy and sharing in our delight. It was a major show storm and everyone from out of town had to drive through it.  Chris Hum from Prescott drove 6 hours in stop-and-go traffic and helped out with his great camera skills.  I hope to have some to share soon.  He also brought his Taylor guitar...more about that later.  
There were three young fans who drove from Barrie through white-outs on the 400 ("no problem, we do it all the time") because her dad introduced her to Stompin' Tom before he died.  They bought a CD.  Perhaps it was a sort of pilgrimage for her.  The town of Sunridge sent a contingent, as did Bracebridge, Alliston and other towns I can't recall.  The guy from the Soo also bought a CD.  
Class Act:
 Shortly into our first set, we welcomed the Honourable Elizabeth Dowdeswell, the Lieutenant Governor of Ontario.  We knew she was coming and had a special set so songs just for her.  Roll on Saskatchewan to salute her teaching days in Swift Current;  Douglas Cameron's version of Stompin' Tom's famous song, "little k, little d, little lang";  Then there was Moon Man Newfie, a salute to her love of classical music (you had to be there); Our new song, "If Stompin' Tom Was Our National Bird" hoping she would lobby the powerful people in her rolodex in the hopes we can get this bird officially declared Canada's National Bird.  
Our volunteers
, Joan Allison, brother Jason Fremlin and Mary Ellen Morganstern did a fantastic job making sure everyone had a great seat and were happy. 
Whiskey Jack
:  This band of merry musicians performed brilliantly as they always do.  Bob's Gumboot Cloggeroo was outrageously good as always; Jen's Margo's Cargo was animated and entertaining as hell; Howard's Roll on Saskatchewan brought a tear to those from the Prairies;  Randy wowed them with his fiddle stylings and the Rock Brothers, (Al Cross and Eric Jackson) held it all together.  As for me, I debuted the cordless mic rendition of Name The Capitals. 
Name the Capitals:
 Tom Jr. sent me 13 gifts from Stompin' Tom Headquarters and I dolled them out as I walked through the crowd, belting out each verse....one for each province and territory.  I was in the hunt for knowledgeable fans who could yell out the correct capitals.  10 provinces, 3 territories = 13 gifts.  They were great gifts, song books, t-shirts, Xmas decorations that played the Hockey Song and more.  Consensus is, Stompin' Tom fans are very smart and know all of the capitals.  
Author and Musician
:  To begin the second set, we were treated to a unique performance by a duo that is presently touring the country with a different kind of show that includes  spoken word/music accompaniment show.  It's called 
The Door You Came In
.  The duo includes renowned Canadian author David MacFarlane (wore a fantastic but dated tie) who recited his interpretation of Luke's Guitar and,  on ukulele, Juno Award Nominee, Douglas John Cameron.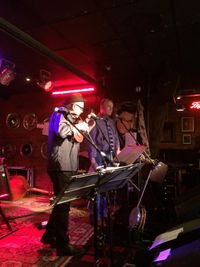 Spiritual Highlight:
  Jen leaned over in the second set and asked if she could sing  "Song For A Winter's Night," the Gordon Lightfoot classic.  As she began the second verse, in walked Gordon Lightfoot and his wife Kim, big grin on his face when he heard the song we were singing.  The crowd recognized him immediately and sprang to their feet!  The respect and love was palpable. He's one of the few performers from our generation who can inspire that kind of response...but then, he's been an important part of our lives forever!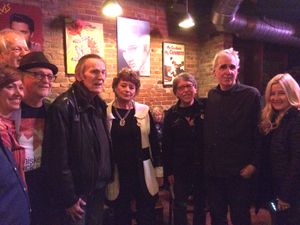 Tom Stories:
 A few minutes later, he joined us, without his guitar this year, and spent a few minutes reminiscing about his encounters with Tom.  One gig they did together was an Government of Canada show that Gordon thought of as a freebie.  Tom thought otherwise and made some noise about at least getting scale.  He was asked to release the film footage of the show but he refused.  If they weren't going to pay him for the gig, they most certainly were not going to use this footage for free.  That brought more than a few chuckles from Gordon and Tom's wife Lena.
He took time to praise the band and then leaned over to me and said, "you're banjo playing is fabulous...sounds like an orchestra".    
Mrs. Connors:
 Tradition has it at these annual parties that Tom's wife Lena joins the band for her version of the French Song, a song she and Tom recorded many years ago... and yesterday was no exception.  It's a real thrill to stand on stage and sing to her as she bops and smiles to our music.  Her attendance means a lot to us.  
Oh...the cake!  It was delicious...and beautiful.