For Immediate Release: September 8, 2018 • Please include in your listings/announcements
Whiskey Jack and guest Canadian Country Music Star Cindy Church present
THE WORLD'S GREATEST STOMPIN' TOM SHOW - ON TOUR NOW
STORIES AND SONGS OF STOMPIN' TOM Ontario Fall Tour, 2018
Whiskey Jack, a veteran Stompin' Tom All Star back-up band and their guest, Canadian Country Music Hall of Fame inductee Cindy Church will begin their fall tour of Ontario cities on October 11. This four city tour will feature shows in Burlington, Toronto, Port Stanley and Maryhill (Guelph). Whiskey Jack has been a mainstay on the national music scene since 1977, appearing weekly on the CBC's Tommy Hunter Show in the 1980's. They have six critically acclaimed albums to their credit, including their collaborative 1993 recording with Tom, Dr. Stompin' Tom… Eh?. This recording project was followed by a national tour. Cindy Church has forged an award winning solo career along with numerous collaborative projects with Ian Tyson, Quartet (Sylvia Tyson) and Lunch At Allens (Murray McLauchlan, Ian Thomas etc).
Whiskey Jack is: Duncan Fremlin, Stompin' Tom's long time band leader and raconteur on vocals and banjo; Douglas John Cameron, two time Juno Award nominee and multi instrumentalist; Randy Morrison, Five Time Canadian National Fiddle Champion; Eric Jackson, one of Stompin' Tom's bass players, and Canadian drumming legend, Al Cross.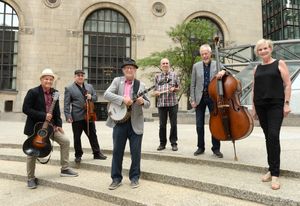 A regular support band for Stompin' Tom from 1993, Whiskey Jack has become the voice, or as some have described them, the curators of the Stompin' Tom music catalogue since his death in 2013.
This all Canadian show, on tour since 2014, celebrates the definitive, if not essential Canadian soundtrack with songs like The Hockey Song, Sudbury Saturday Night, Bud the Spud, Maple Sugar, Margo's Cargo, Someday Soon and more! 
Stompin' Tom's relationship with Canada is well known having written many of his classic songs while working the fields and factories in our towns and cities hitching rides with us on our local highways. This show will feature many first hand stories about those years.
Nothing fake about this show.
STORIES & SONGS OF STOMPIN' TOM
October 11, 2018 - Burlington Performing Arts Centre - 8:00pm
October 12, 2018 - Free Times Cafe, Toronto, On - 7:30pm
October 13, 2018 - Port Stanley Festival Theatre, Port Stanley, On - 7:30pm
October 14, 2018 - Commercial Tavern, Maryhill (Guelph) On - 3:00pm
To purchase tickets and for more information please visit whiskeyjackmusic.com or www.stompintom.com @banjodunc Twitter) | FB/TributeStompinTom @banjodunc (Instagram)
Media Contact: Shaun Pilot - 647-853-0057