Dissing a fellow citizen who has achieved a degree of success and notoriety is a popular Canadian pastime. I have been guilty of doing this myself, Neil Young being my favourite target. What great fun!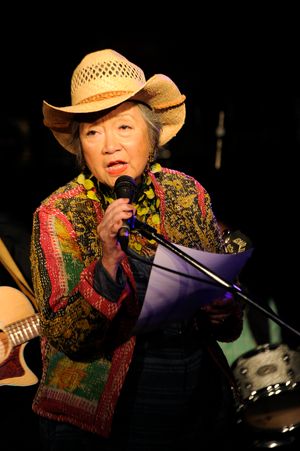 But there is one target who over the years has taken more than her fair share of abuse and, from what I know, having worked closely with our former Governor General, the Right Honourable Adrienne Clarkson on a project, this is not warranted one little bit. I'm referring of course to the recent headlines broadcasting the million dollars the Government of Canada has spent on her office expenses since she left office in 2005.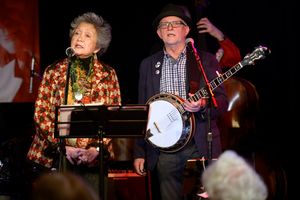 I, like all loyal citizens of this country, help to finance this expense account through my generous donation to the Receiver General each year. I happen to think I'm getting good value for my money. One Friday morning in early 2014, I emailed her and asked if she would lend her celebrity to join my annual Stompin' Tom birthday concert in Toronto. The late Stompin' Tom Connors is a well known Canadian singer/songwriter who devoted his life to promoting all things Canadian. He and Adrienne were also good friends. Later that day, and without hesitation, she called me and asked "what can I do?" and my reply was "might you sing a song with us at our show this year?". "I'm not much of a singer" replied Madame Clarkson "but I can recite". So, at my behest, she agreed to learn a very long and difficult Stompin' Tom song about a heritage moment in our history, The Marten Hartwell Story.
As it turns out, she signed on to helping me with two of my annual shows. This involved travelling across the city to attend our rehearsals where she would sit with the other musicians waiting her turn, with not one hint that her time was in some way, more special. Over the next two years we spent a great deal of time together discussing who of her friends she could invite to help keep the memory of Stompin' Tom alive. She welcomed me and my film crew into her home to talk at length about why Stompin' Tom's memory and message were so important to Canada. Her husband John Ralston Saul took time also to sit with me and discuss the show and what could be done to elevate it's profile. She performed to great applause at two of my shows, arriving all dolled up in a Stompin' Tom style cowboy hat and looking not at all like a Governor General. She accepted invitations to join me for newspaper interviews which resulted in front page coverage in The Toronto Star and many national press stories; photo ops; radio interviews such as the CBC's Here & Now as well as magazine articles which resulted in an invaluable feature in Zoomer Magazine. All of these very time consuming activities were offered with a smile and a playfulness not expected of a 79 year old who has dedicated much of her adult life to the well being of her country.
I receive her Twitter feeds and marvel at the hours she spends supporting literacy, human rights, anti-racism, rights of minorities and women, the arts, citizenship and the list goes on and on.
At a time in her life when she could be taking it easy, she works a schedule that most of us 20 years her junior would never take on. Instead, she continues to selflessly promote the kind of Canadian values that the world envies. If this only costs my government $100,000.00 each year, I think I'm getting good value for my money.