​Special Notice to all fans of Canadian Country Music: 
As in years past, the special guest list for this birthday party is never finalized until shortly before the show. If you've attended before, you know what we're talking about. The show this year will offer a "once in a lifetime" opportunity to personally interact and be entertained by a cast of prominent Canadian all stars. There will only be 150 tickets sold to this show. We recommend you buy yours now.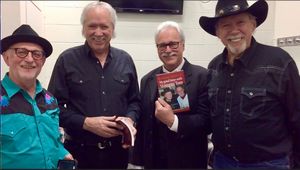 Duncan Fremlin and Zoomer Radio Present The 6th Annual Stompin' Tom Birthday Celebration Zoomer Hall, 70 Jefferson Ave in Toronto's Liberty Village Thursday, January 31 at 8pm
On Thursday, January 31 at 8pm, Duncan Fremlin and his band Whiskey Jack will welcome musical guests to Zoomer Hall to celebrate what would have been Stompin' Tom's 82nd birthday. Zoomer Radio will broadcast the concert live on AM740 and 96.7FM in Downtown Toronto, and stream the concert at ZoomerRadio.ca. Robbie Lane, Zoomer Radio host and Canadian rock 'n roll legend/founder of The Disciples will host the celebratory concert.
Whiskey Jack includes Stompin' Tom band leader Duncan Fremlin on vocals and banjo; two-time Juno Award-nominee and multi-instrumentalist Douglas John Cameron, five-time Canadian National Fiddle Champion, Randy Morrison; Tom's resident bass player Eric Jackson; and Canadian drumming legend Al Cross.
Two very special guests will also join the band to sing their favourite Stompin' Tom songs including eight-time Juno Award-winners and International Hall of Fame Inductees, The Good Brothers, and Murray Foster from Moxy Fruvous and Great Big Sea.
A regular performer with Stompin' Tom from 1993 to his death, Duncan Fremlin has since become the voice or the curator of the Stompin' Tom catalogue, as some have described him. Since 2014, Duncan has presented this all-Canadian show across the country, performing Tom's greatest hits and sharing personal stories, tales just like the man himself – outrageously funny and barely believable.
Each concert celebrates the definitive, if not essential Canadian soundtrack with hits like The Hockey Song, Sudbury Saturday Night, Bud the Spud, Maple Sugar, Margo's Cargo, Someday Soon, and classics reflecting Tom's relationship with Toronto including Don Valley Jail and TTC Skidaddler.
Special arrangements have been made to open Moses Znaimer's MZTV Museum of Television at the ZoomerPlex for the ticket-holders before the show. This museum holds Moses' collection of pre-WWII and vintage television sets, the world's largest, and the newly opened exhibit "Forgotten Genius: The Boy Who Invented Electronic Television about the life and career of Philo T. Farnsworth.
Duncan Fremlin and Zoomer Radio Present The 6th Annual Stompin' Tom Birthday Celebration
Thursday January 31 at 8pm Zoomer Hall, 70 Jefferson Avenue in Toronto's Liberty Village.
Free parking on site. MZTV Museum open at 7pm, Show starts exactly at 8pm
All Tickets $35.00 To purchase tickets online, click here.
For more information please visit www.zoomerradio.ca whiskeyjackmusic.com or www.stompintom.com @banjodunc Twitter | FB/TributeStompinTom | @banjodunc (Instagram)
Media Contact: Duncan Fremlin - 416-716-3257