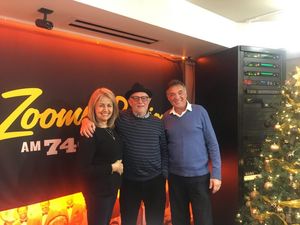 On behalf of the entire Whiskey Jack team here at our head office in Toronto, we'd like to thank you for another exciting year full of amazing memories, music and exceptional audiences! We'd also like to wish you all a Merry Christmas and a very happy and healthy 2019. We're grateful for many things....headlining the Canada Day festivities at the Stompin' Tom Centre in Skinners Pond PEI being at the top of the list. This included a long drive through the beautiful Canadian landscape, much like we did with Tom all those years ago, TV appearances, newspaper articles and numerous warm and engaging encounters with our fans. What a thrill to share the stage that weekend with the great singer, Cindy Church More shows with Cindy coming in 2019.
The first pressing of Duncan's book My Good Times With Stompin' Tom has almost sold out!. It'll be in a lot of stockings on Christmas morning. Canada's most prominent country music journalist Larry Delaney wrote to say "CONGRATULATIONS on creating a very important chapter in Canadian country music literature. It deserves a spot on the Canadian Best Sellers List!!". Sun Media got into the mix. Reporter Jane Stevenson spent time with Duncan and wrote this article. It went national! More accolades from Tyler Stewart (Bare Naked Ladies), Sean Cullen, Liona Boyd and more. Grant MacNeill proprietor at the 12th Fret Music Store (where the book is being sold) wrote "lot's of laughs, well told, each short little yarn is worth telling".
One more bit of news...we're weeks away from releasing a new CD. It will be called Rhymes and Good Times. One more visit to the recording studio will do it. With the valued assistance of 5 time Juno Award winning producer, Danny Greenspoon, we'll be looking to show off our new and very contemporary interpretations of Stompin' Tom songs (wait until you hear TTC Skidaddler and Tillsonburg). We'll also include a new song by our very own, Douglas John Cameron called Stories and Songs. It's a lament about Tom that leaves our fans in tears.
If you're in the Toronto area on January 31, 2019, please join us at our 6th Annual Stompin' Tom Birthday Celebration. It'll be an up close and personal evening with guests The Good Brothers and Great Big Sea's Murray Foster....and more guests yet to be announced. This co-production with Zoomer Radio will be broadcast live and streamed on the internet. Check our web site for ticket details.
We look forward to seeing you in 2019! Duncan, Douglas, Randy, Eric and Al and our valued team, Jim Baine and Jason Fremlin