Since we began this odyssey 5+ years ago, I've met hundreds of fans and friends who have reached out to us in support our efforts, all with a genuine appreciation for our music.  Publishing the book has opened the door to an entirely new community of fans.  
A few weeks ago, I met and interviewed the legendary broadcaster, Brian McFarlane from Hockey Night In Canada Fame.  We've become great pals, always lots to talk about.  I'll publish my last interview with him at a later date.  It's all about  old school hockey....very interesting.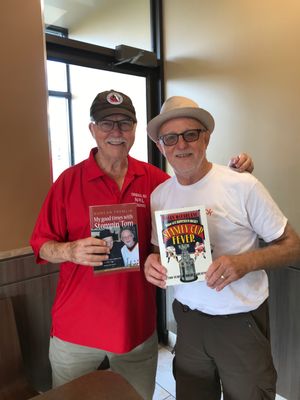 Today, I was invited to visit the studio of the legendary broadcaster/author, Ted Woloshyn on CFRB radio.  He read my book and loved it.  What a thrill it was to talk to him about this.  As it turns out, he's a good pal of Tom's old business partner, Jury Krytiuk.  Ted was nominated for a Juno in 1981.  It was a comedy album It's Not the Heat...it's the Humility.  I think (and I'll double check this) that Jury helped him with this.  
Also in attendance was the show's Music Director, another legend on the entertainment scene in Toronto, Bill King.  I was embarrassed that I did not recognize Bill but he graciously forgave me.  Bill is everywhere...a great jazz musician, author, photographer, columnist (FYI Music News), broadcaster (CIUT-FM) and on and on!  He invited me to be a guest on his CIUT show later this month.