Our birthday celebration at Zoomer Hall on January 31, 2019 was special for a lot of reasons.  The show and the special guests were outstanding.  Everyone performed brilliantly.   
The fans however were also outstanding in every respect.  They drove from many miles away to attend and their enthusiasm and exuberance were contagious. They inspired the on stage performances for the entire show.   We could even feel the love and affection from those who watched the show on their computer. They emailed and texted us from B.C., Alberta, Saskatchewan, Prince Edward Island and Nova Scotia to tell us how much they enjoyed it.
There is one fan however who has continually gone the extra mile.  He's a native of PEI (no surprise there) and his affection for Tom and his music is unequalled. Over the years, he's attended all of our shows in the Toronto area and even drove north to Sault Ste. Marie on July 1, 2017 to see those shows.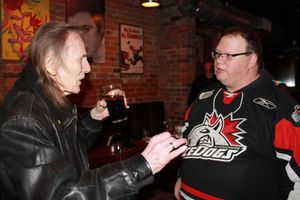 At this year's birthday celebration, he gave us a very special gift.   This video is our thanks to Alan Dalton.