The great Mac Wiseman died yesterday.  His voice was a part of my life for as long as I can remember.  In the 1950's, Don Ramsey's radio show in the Soo was on all the time in our little house on Pumpkin Point Road in Laird Township near Bar River, Ontario and Jimmy Brown the Newsboy was my favourite song at that time.
Years later, I played banjo for Mac on one of his Canadian tours.  Whiskey Jack even recorded a radio special with Mac on David Essig's show on the CBC.  I have that recording somewhere.  On that show he tells the story of Canada being responsible for making Bringing Mary Home a hit!
But there was a moment at Stompin' Tom's 70th birthday party that I remember most clearly.  It was quite an event with most of Tom's entourage in attendance.  All is touring pals and Deane Cameron his record label pal and on and on.  Whiskey Jack was the host band and the table was set with sandwiches and the condiments and "all that good stuff" as Tom used to say.  The booze was flowing, the dance floor was happening and somewhere along the way, Lena came out of the kitchen and said to Tom, "you're wanted on the phone".
He returned moments later with a grin on his face and announced "it was Mac Wiseman.  He wanted to wish me Happy Birthday".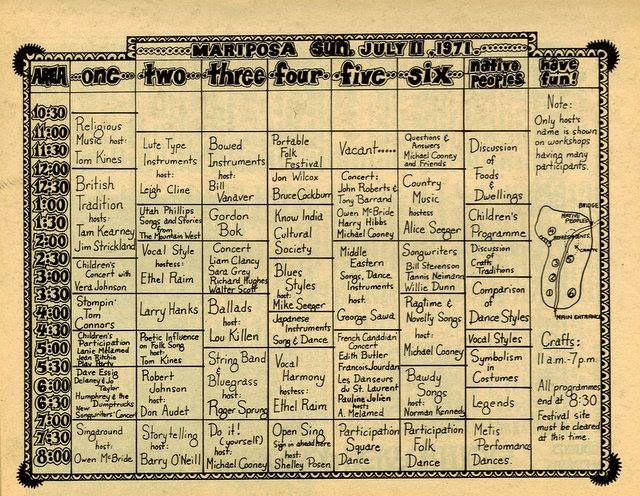 I'l sorry to say, I didn't ask Tom how why he knew Mac.  So yesterday, I emailed Tom's old business partner Jury Krytiuk and asked him if Tom had ever met Mac.  He replied that they might have met at one of the early Mariposa's because they were both on the bill one year.  I sent Jury a copy of the attached 1971 program announcing Tom's appearance and this was Jury's reply:
"This was not the year. I don't recall this lineup at all. You would think I would since it included Humphrey and the Dumptrucks, the first group I recorded, and Willie Dunn, another Boot act. Maybe I was at Mariposa on Canadian Music Sales business. We had all the song folios, Gordon Lightfoot, Ian and Sylvia, Dylan...or maybe Dick Flohil dragged me out. I hit Toronto on Valentine's day 1969 so it could easily have been Mariposa 69 or 70 that I attended. I recall Peter Rowan and Martin Bogan and Armstrong. Then I remember going back to the Edgewater Motel where everyone stayed where there was a sing song of all the entertainers. Seem to remember Joan Baez's voice coming out over the top of everyone elses. But then maybe I'm dreaming Boot was started in 1971 so possibly Humphrey and the Dumptrucks performed injunction with recording their album. And now that I think of it I didn't do the native series until 1974 or 75 so in 71 Willie Dunn would have been unknown to me."