A theatre in Eastern Canada is promoting the following: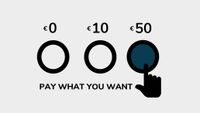 "This year, we've begun offering a "pay-what-you-can" option reserved for those who are experiencing financial limitations. If money is keeping you from having cultural experiences, we want to make sure our space is still accessible. Art and music improves our lives and we believe everyone should have access! On our ticketing website you will see an option for pay-what-you-can. Should you be experiencing financial struggles, we encourage you to use the option. For those who are financial secure, all revenue generated by this theatre goes to paying artists, promoting cultural health, and creative program to our community and its guests year round!"
I like it! 
There was a day not that long ago when most, if not all shows were financially accessible to the majority of the population.
On November 4, 2022, I'm producing a Canadian Country Music Legend show at the Redwood Theatre in Toronto.  Mmmm...should I offer this?